Minimalist bedroom design isn't something that happens over night. By its very nature minimalism requires a high degree of organization and lack of clutter. Since there is so little that makes up the bedroom, there are no room for extras without their presence dramatically changing the aesthetic of the room.
Creating your first minimalist bedroom doesn't have to be difficult, or expensive. However, it will require careful thought and planning to make the proper functional and aesthetic choices to bring it all together. The following is intended as a beginners guide to creating a minimalist bedroom. It covers what you should buy and where, and how to choose the right aesthetic touches to go from purely functional minimalism to an aesthetic style you can be proud of.
1. Choosing a Minimalist Bed Frame
Finding the right frame for your room is critical, as it will set the entire tone of your minimalist bedroom. Traditional beds are generally large, heavy (looking and literally), and have a number of aesthetic touches that distract from the minimal goal. As a result, we'll focus only on platform and other low-profile bed frames.
Platform Beds
A traditional platform bed can be a great option as the centerpiece for your design. They can often come with a full matching set of supporting furniture, which can help to quickly set the foundation for your design. The only problem with platform beds is that they can be quite expensive. My wife and I bought our first platform bed this past year and looked at dozens of platform beds looking for a style we liked at a price we could afford.
Most well-designed and constructed platform beds will be $2,000+. So if that's your desire, be ready to open up your wallet.
My wife and found a steal of a deal on our platform bed from Copenhagen Living. We purchased the Bellmar platform bed, which is was only $600 for King. If that price range is out of your budget continue on to one of the options below.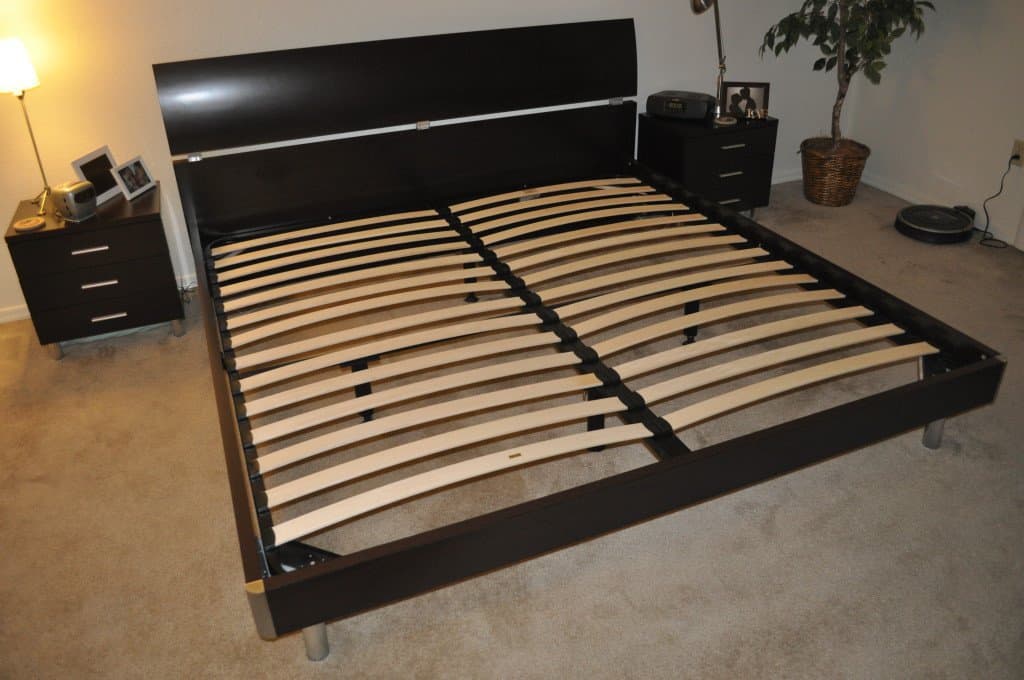 IKEA
If you're on a budget, IKEA can be a good choice for platform beds also. When it comes to price, it's hard to beat. However, IKEA furniture is generally lower quality. If you move frequently or otherwise put pressure on your frame it is likely not going to have a long life.
IKEA has several great minimal platform bed options. Additionally, there are multiple matching furniture pieces that you can buy as many or as few as you like.
Metal Bed Frame / Box Spring
If you move frequently, are on a super tight budget, or just want a bit of a different look, you should consider a metal bed frame / box spring. You'll find these combination frame / box springs popping up on Amazon.com and elsewhere.
This one has great reviews and is less than $100.
They are inexpensive and ship in a box to your door. The frames just take a few minutes to assemble and are a complete replacement for a traditional box spring.
Additionally, they are generally crafted from steel, so you know they can take some punishment from several moves and still expect to stay together.